Set Blatant Advertising = ON
"If you like these podcasts, please:
– post a review on iTunes
– share URLs with your friends
– subscribe via iTunes or via RSS
– send voicemail or e-mail feedback"
Set Blatant Advertising = OFF
This is a special 'double-tech' episode without any of the 'soft-skills' we normally add in the second half of the show. Today we have back Devin Akin of Aerohive talking to us about Quality of Service with respect to Wireless LANs. This is an in-depth discussion of how QoS works in our networks. We've tried to add lots of graphics and support to the show notes. Enjoy the ride!


Some terms used in today's discussion on Quality of Service over Wi-Fi:
L2 = Layer 2, Data Link Layer, MAC sublayer, Ethernet frames, 802.11 frames
L3 = Layer 3, IP Layer, packets*
802.11e = An amendment to the 802.11 standard that introduced L2 QoS
WMM = Wireless Multimedia, a term coined and owned by the Wi-Fi Alliance, which is an implementation of 802.11e QoS
802.1p = An old-school, QoS term that indicates 802.1Q priority markings in an Ethernet header, when header expansion is used
Access = An access connection (or port) is one that does not use or support 802.1Q** Ethernet frame header expansion
Trunk = An trunk connection (or port) is one that does use and support 802.1Q** Ethernet frame header expansion
DSCP = Differentiated Services Code Point, DiffServ, L3 QoS markings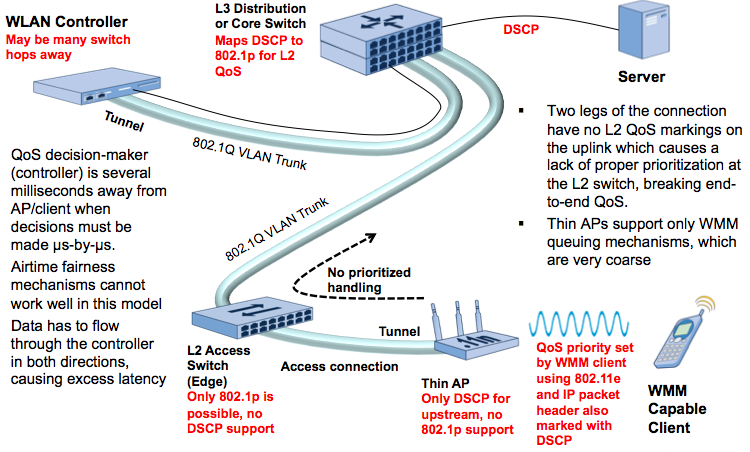 ---
Thanks for listening in on the conversation surrounding Quality of Service on a Wireless Network. And a special thanks to @devinakin for sharing his expertise with us this week.
We'd love to have you subscribe to our RSS feed – just click the button in the upper right corner of the web page. Until next week, thanks for listening!
If you have any feedback on the show – please drop an e-mail to feedback@WirelessLANProfessionals.com.