This week it's all Keith Parsons by himself. First from the Interop Show floor with his reactions and sounds of the floor. Next is an interview with Ryan Woodings directly on the show floor about a new update to their Chanalyzer product, and finally a recording of the session Keith presented along with Lisa Phifer, Bob O'Hara and Joe Epstein about migrating to .11n.
This episode isn't from the pristine studio, but recorded live on-site. We hope you enjoy this new format.
First of all, here is the small lightweight kit I used for my time at Interop. (Yes I had my laptops with me, but I left them in the hotel room and only used this small set to see if it would work)
Small messenger style bag, mic, digital recorder, iPad, Sprint Overdrive, small notebook. I'll post a longer blog just on this kit, but overall I was very happy with the results. Much, much easier to carry, and still accomplished everything I needed.
I've been going to the Interop trade show since 1993, back when it was still called Networld+Interop. This year was so much smaller than past years. Many Wi-Fi vendors opted out of the show, stating it was too expensive for the leads it generated. Back in 1993-1995 my job was to produce the CNEPA Hands-On Technology Labs. One of the venues for our training sessions was at Interop. We had 20-30 20×20 hard-wall rooms for our hands-on training sessions… I think compared with that experience, the entire trade show floor was maybe 10 times larger than our labs took back in the hey-day.
That being said. There was the old 'energy' and enthusiasm of those there hawking their wares. It was loud, boisterous, and high-energy as usual. The highlight is, as always, the tour and demonstrations of the Interop NOC and labs! I just love to see how they put everything together and make it 'Inter-operate' as it should.
One big downside was the 'overkill' of Wi-Fi on the trade show floor. Even with my Sprint Overdrive very close… there was just to high of a background noise floor to get really great connections. (Go Copper, Go Fiber!)
I also had a chance to interview Ryan Woodings of Metageek about their new Chanalyzer Pro – and received a personal demo of some of it's new features.
Then on Thursday I was involved in a panel discussion concerning migration to 802.11n.


Here are some of the graphics from my slide presentation to go along with the audio recording in the podcast.
---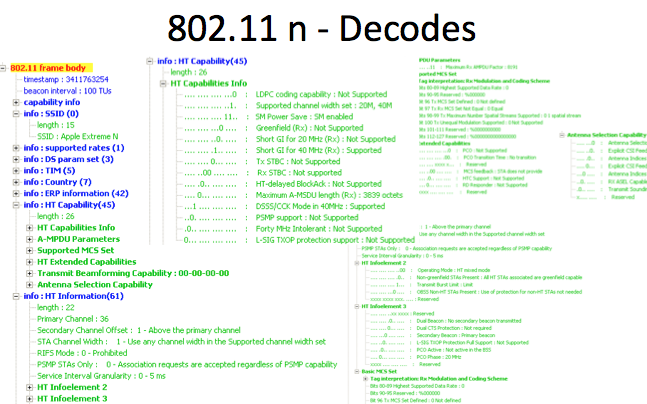 ---
---
---
---
---
---
---
---
---
We'd love to have you subscribe to our RSS feed – just click the button in the upper right corner of the web page. Until next week, thanks for listening!
If you have any feedback on the show – please drop an e-mail to feedback@WirelessLANProfessionals.com.